Mustaches for Kids Ottawa
12 Years of Growing Mustaches and Raising Money for Make-a-Wish
October 23rd, 2016 by Brett Tackaberry
Mustaches 4 Kids is just around the corner and we need your help to make this year a great one. Also, no rules again – NO RULES!  Have a beard? Go straight to stache, or don't shave at all. Don't have any facial hair because you're a female? PLEASE JOIN US.  Alumni? Come back for another kick at the can. NO RULES! NO INHIBITIONS!
Some details about this year's M4K campaign:
We'll be kicking off on Friday, October 28. (aka clean shave day).
The growing season will wrap-up Bash-style Saturday, November 26
Want to submit a work team? Just reach out to me directly, and we can set it up.
Also, take a walk down memory lane and check out past posters and all the sweetest stache winners over the years.
Stay tuned for more stachely updates as we approach clean shave day. If you have any questions, please don't hesitate to reach out.  This year is going to be huge – share the experience with your closest friends and ask them to join you.
And…. get a sweet mustache lego avatar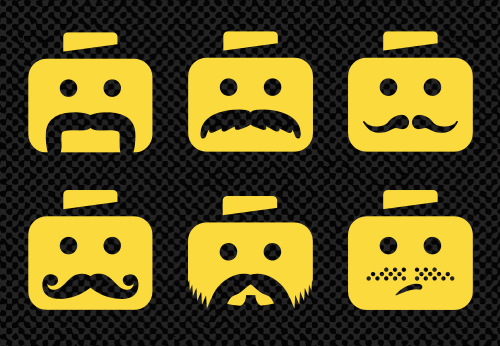 Number of Members: 29

Top Fundraisers

| | |
| --- | --- |
| #1. Scott Dare | $2555.00 |
| #2. Mike Hollingworth | $2015.00 |
| #3. Brett Tackaberry | $1333.00 |
| #4. Javier Jorge | $1100.00 |
| #5. Adam Aldersley | $1091.10 |
| #6. Trevor Kealey | $838.00 |
| #7. Keith Fenwick | $665.00 |
| #8. Christopher Dziwinski | $580.00 |
| #9. Paul Townsend | $550.00 |
| #10. Ryan Knuth | $530.00 |
| #11. Jeremy Francis | $490.00 |
| #12. Darren Talbot | $315.00 |
| #13. Mat Dupont | $305.00 |
| #14. Donald Makori | $300.00 |
| #15. Chad Levac | $285.00 |
| #16. Scott Stuart | $275.00 |
| #17. Nick Weatherdon | $270.00 |
| #18. Marylou Scott-Smith | $205.00 |
| #19. Erik Thorsteinson | $200.00 |
| #20. Scott Brohman | $180.00 |

Downloads