Mustaches for Kids Ottawa
12 Years of Growing Mustaches and Raising Money for Make-a-Wish
October 22nd, 2013 by Brett Tackaberry
Every year I am absolutely floored by the impact our efforts have on the families we help.
If you haven't had the opportunity to talk to a parent of a family helped by Make a Wish, you need to watch this.
But what about YOUR mustache? Why is your mustache amazing? Because it granted these 3 wishes…
Braden's Wish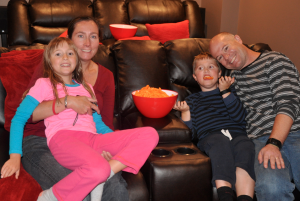 Braden is a 9-year-old boy from Ottawa that enjoys swimming, watching movies and playing video games. He suffers for Duchenne Muscular Dystrophy, but he doesn't let this keep him down! He is known for being quite the conversationalist and loves to talk. Braden was set on either going to Hawaii to see volcanoes, or a home theatre. He quickly decided that he wanted to have a home theatre, so the team at Make-A-Wish got right to work! Braden's basement was transformed into a full-functioning theatre with comfy chairs, a projector, movie posters, and even a vintage popcorn machine! On wish reveal day, Braden's father carried him down to the basement and he was shocked! "I think I am going to faint right now!" said Braden.
Jackson's Wish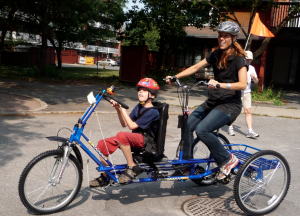 Jackson is a 9-year-old boy from Ottawa who absolutely loves the "Brown Bear, Brown Bear, What do you see?" book. He also loves spending time with his family. Jackson suffers from Orphan Genetic Disorder, Autism, Epilepsy and is visually impaired. One of his family's favourite activities is to bike. Jackson is limited physically by his illnesses and is unable to use a normal bicycle, so it was decided that for his wish, he would receive a custom bike from Motion Specialties. For the wish delivery, all of Jackson's awesome neighbours threw a block party in honour of the big day. When he saw his bike move for the first time, he was so excited that he dropped his copy of Brown Bear, Brown Bear that he is always glued to and focused on the bike. The neighbours organized a group bike ride to celebrate the arrival of Jackson's new wheels and made him feel like part of the gang. His sister thanked the Make-A-Wish staff for making it possible for her brother to ride alongside her.
Lucy's Wish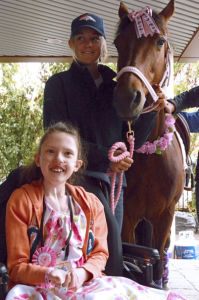 Lucy is a 10-year-old girl from Ottawa who suffers from Di George Syndrome, a form of pulmonary hypertension. Her favourite thing in the world is My Little Pony, so when it came time to decide on her wish, there was no doubt that she wanted a My Little Pony party. On wish day, Lucy was totally shocked by what was prepared for her at Rogers House! She was surprised by her family and friends, and even a horse that was done up in pink nail polish and braids! She named the horse Rainbow Dash! There were amazing snacks provided, including a very special My Little Pony cake. Lucy was given countless toys, and her room was made over with My Little Pony posters. Her favourite gift was her Ipad that kept her entertained for hours!
Number of Members: 29

Top Fundraisers

| | |
| --- | --- |
| #1. Scott Dare | $2555.00 |
| #2. Mike Hollingworth | $2015.00 |
| #3. Brett Tackaberry | $1333.00 |
| #4. Javier Jorge | $1100.00 |
| #5. Adam Aldersley | $1091.10 |
| #6. Trevor Kealey | $838.00 |
| #7. Keith Fenwick | $665.00 |
| #8. Christopher Dziwinski | $580.00 |
| #9. Paul Townsend | $550.00 |
| #10. Ryan Knuth | $530.00 |
| #11. Jeremy Francis | $490.00 |
| #12. Darren Talbot | $315.00 |
| #13. Mat Dupont | $305.00 |
| #14. Donald Makori | $300.00 |
| #15. Chad Levac | $285.00 |
| #16. Scott Stuart | $275.00 |
| #17. Nick Weatherdon | $270.00 |
| #18. Marylou Scott-Smith | $205.00 |
| #19. Erik Thorsteinson | $200.00 |
| #20. Scott Brohman | $180.00 |

Downloads