Mustaches for Kids Ottawa
12 Years of Growing Mustaches and Raising Money for Make-a-Wish
October 21st, 2014 by Brett Tackaberry
Hayden's Wish To Go … On A Disney Cruise Line

Hayden is a beautiful 5 year old boy with severe epilepsy. When we visited him he told us right away that he wanted to "see Pluto on a big boat!" Hayden's wish was our command, and we sent him on a Disney Cruise Line®.
He a fantastic time. Hayden loved playing in Andy's Room (based on the Toy Story character) and in the Oceaneer's club. He was thrilled to find out that he could get ice cream all day. He danced on the Castaway Cay island and met Mickey Mouse. But the moment he was waiting for was the chance to meet Pluto.
"The look on his face when he met Pluto for the first time made me cry," Hayden's mom told us. "The sheer joy on his face was the definite highlight of the wish trip."
His family thanked us for making Hayden's dreams come true, and also thanked WestJet for "all of the wonderful help they gave our family to make travelling easier."
??????Khateyanna's Wish To Go…to Walt Disney World Resort!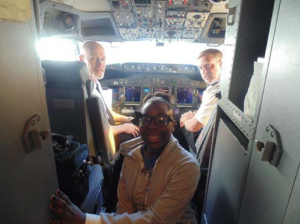 Khateyanna is a sweet 14 year old girl who was born with a hematologic disorder. She is a very active young girl and loves to swim, play volleyball, and dance. Her most cherished wish was to go to Walt Disney World® Resort with her family.
Thanks to Make-A-Wish® Eastern Ontario, her wish came true. During her week- long trip, Khateyanna and her family stayed at Give Kids the World in Florida and visited the many theme parks in the area.
Khateyanna was excited that she got to feed dolphins by hand. In fact there were so many amazing moments on the trip that she took over 700 pictures on her brand new digital camera!
Khateyanna and her family had an amazing time and came back with many wonderful memories. With your support and generosity, we will be able to grant another child's wish and create new memories for another deserving family.??????
??????Nicolas's Wish To have… a Montreal Canadiens themed room makeover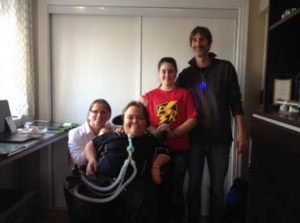 Nicolas is a passionate young man, particularly where hockey is concerned. The team he loves and is proud to support is the Montreal Canadiens.
Nicolas suffers from a severe respiratory condition and a genetic disorder. But Nicolas is a strong and positive boy and he doesn't let his medical condition affect his passion for hockey and the Habs!
For his wish, Nicolas wanted a room makeover that made it easier for him to move around easily and put his things within reach. With the help of IKEA and their volunteers, Make-A-Wish® Eastern Ontario got to work and completely adapted the room to Nicolas' needs, while incorporating the theme of his favourite team: the Montreal Canadiens!
Nicolas was overjoyed at the makeover and the extra gifts he received. He and his family told us they were overwhelmed by the whole experience and extremely grateful.
?????
Number of Members: 29

Top Fundraisers

| | |
| --- | --- |
| #1. Scott Dare | $2555.00 |
| #2. Mike Hollingworth | $2015.00 |
| #3. Brett Tackaberry | $1333.00 |
| #4. Javier Jorge | $1100.00 |
| #5. Adam Aldersley | $1091.10 |
| #6. Trevor Kealey | $838.00 |
| #7. Keith Fenwick | $665.00 |
| #8. Christopher Dziwinski | $580.00 |
| #9. Paul Townsend | $550.00 |
| #10. Ryan Knuth | $530.00 |
| #11. Jeremy Francis | $490.00 |
| #12. Darren Talbot | $315.00 |
| #13. Mat Dupont | $305.00 |
| #14. Donald Makori | $300.00 |
| #15. Chad Levac | $285.00 |
| #16. Scott Stuart | $275.00 |
| #17. Nick Weatherdon | $270.00 |
| #18. Marylou Scott-Smith | $205.00 |
| #19. Erik Thorsteinson | $200.00 |
| #20. Scott Brohman | $180.00 |

Downloads