Growers, your mustaches grant wishes. Here is how your efforts have helped over the last year:
Nathan's Wish To go to Paris & See the Eiffel Tower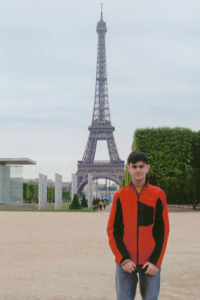 Nathan is a nice & kind 13 old teenager who was diagnosed with a brain tumor.  Nathan likes  to play hockey and baseball.  He also enjoy reading and playing video games.
His most cherished wish was to go to Paris, eat french food and see the Eiffel Tower.  With the help of the fundraising efforts of the "Mustaches 4 Kids" (M4K) event & Make-A-Wish® Eastern Ontario,  Nathan and his family were able to enjoy a family trip to London & Paris for a week.  While in London, they met up with family and went on the London Eye. Nathan stated the view of Big Ben was amazing from there. They followed with a visit to the London Aquarium where Nathan had the chance to pet a starfish. Nathan got to see the "Queen" at the Trooping of the Color, went to Windsor Castle, Le Louvre and the Palace of Versailles, just to name a few.
The most thrilling for Nathan was when he  made it up the Eiffel Tower!  He stated: " I thought I would have to walk up the Eiffel Tower but a large elevator was available.  The view from the top was spectacular!"Nathan andhis family really enjoyed their trip to London and Paris. They are very grateful to the Make-A-Wish Foundation. Nathan stated that he is very thankful for making this experience possible and making his wish come true. It was amazing!
Corissa's Wish To go on a  Shopping Spree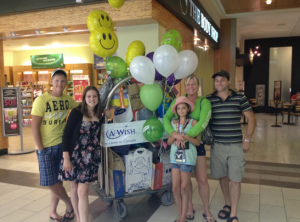 Corissa is a beautiful 10 year old little girl.   She loves shopping for clothes and doing crafts.  Hide and seek is her favorite game.  She loves the group "One Direction" and she is passionate about the color lime green.
Her most cherished wish was to go shopping for things that she had lost in a house fire.   With the help of the fundraising efforts of the "Mustaches 4 Kids" (M4K) event & Make-A-Wish ® Eastern Ontario, Corissa's dream came true and she was treated to a spectacular day of shopping.  Her magical day started when the wish grantors arrived at Corissa's house with lots of goodies. Included was a beautiful Sony Digital Camera with lens kit, generously donated by Sony Canada, an Ipod, a new bed and a craft table.  Next Corissa and her family hopped into a stretch Limousine.  Her trip started with a stop at Lululemon, then a brief lunch at her favorite restaurant, McDonalds, on the way to Bayshore Shopping Centre where she shopped at all her favorite stores. Staffs at each store were waiting for Corissa's arrival and went above and beyond to make her feel extra special.  She received gifts from all the stores, baskets of goodies, gift cards, outfits; balloons just to name a few.
There was an awesome moment in the afternoon when Corissa serendipitously ran into 6 year old Isabelle who had donated her birthday money to go towards a wish!  For the wish grantors the highlight of the day was when the staff at the "Build a Bear" store put on a show with the entire staff to help Corissa build her new bear.  When asked what she would wish for; her answer was "I have nothing else to wish for".  The family is very grateful to everyone for their generosity and for helping Corissa's wish come true.
November 22nd, 2012 by admin